Over the last month we've rolled out a bunch of improvements to MapBox to give you more design tools, simpler publishing options, and an easier-to-use interface for making beautiful custom web maps. All of this is in addition to heavy investments we're making in OpenStreetMap, the open data that powers our maps, and TileMill, our free and powerful web cartography application. Here's a rundown of what's new.
Better design tools
Beautiful new map presets
The first step in making a custom web map is picking preset base map. MapBox's new preset palette features dozens of color options for street maps with optional terrain and satellite imagery layers.
Advanced customization tools
Any preset is completely customizable. By adjusting the hue, saturation, lightness, and opacity of the component layers that make up a base map, you can design your own completely custom web map in no time at all. We've recently redesigned the preset selection and customization workflow to be simple and efficient.
Redesigned Maki markers
Annotate your maps with a suite of icons from our Maki collection. It's as simple as point-and-click to add some pins your map with tooltips and custom colors. We just updated our marker renderer to apply a clean border on each pin and a stroke around Maki icons so pins overlap smoothly and have enhanced legibility on any background color. This upgrade automatically affects maps made with the previous style of markers so you can see the results immediately.
Simple and social publishing options
Easy to use sharing tools
Once you've designed your cartographic creation, it's time to share it. We've redesigned the publishing workflow to give you more options directly from MapBox. Get a sharable link to your map, or tweet it with just a click and have your map show up inline on Twitter. For your blog / website, copy and paste the YouTube-style embed code for you map — we've just added controls for you to easily adjust the embed size too.
Simple static maps
Sometimes all you need is a simple PNG image of your map for an email, slide show or PDF report. Easy: just grab the link to a static image of your map — including custom markers.
Jumpstarting MapBox.js sites
It's also easier than ever to kick off a custom mapbox.js web app. Just copy and paste the starter template and you'll have the HTML for a full-screen web map. Add in additional mapbox.js functions to take full control of the map. Advanced interactions like animating to and from markers or crossfading between layers are available in the mapbox.js examples gallery for you to copy and paste.
Making maps social
MapBox is the first and only platform for generating maps that instantly show up inline on Twitter. MapBox maps join photos, Vine videos, and news article summaries as embedded media supported in Twitter Cards, which are a really smart and social way to get your content in front of new viewers. Just tweet a link to any MapBox map to see map cards in action.
In case you missed it, here's a short video of how to make a custom map, add some markers, and share it inline on Twitter in under 90 seconds:
We also added MeatText to our mobile portfolio, a great example of a social mapping app for iPhone. And we've got some really exciting new social mapping tools in the works — stay tuned for those coming soon.
Partnering with OpenStreetMap
An editor for everyone
We're partnering with OpenStreetMap to build the infrastructure for the world's open map. Supported by funding from the Knight Foundation, our main focus is to build a simple editor that lets anyone contribute to OpenStreetMap. Empowering all people to add locations, adjust roads, and trace buildings is a critical step to scaling, and with the iD Editor, we're making incredible progress. Check out the video and try a live demo.
Iterating on openstreetmap.org
On the front end, Saman's also been focusing on a gradual rollout of design and usability improvements for openstreetmap.org, and we're excited to see that scale up in the coming weeks.
State of the Map US
Want to learn more about OpenStreetMap and meet the community? Mark your calendars for the US State of the Map conference on June 8-9 in San Francisco. Bonnie and Jen have been hard at work planning this incredible event — check out the conference site to learn more.
TileMill: Photoshop for maps
Image compositing
The latest version of TileMill features some incredibly versatile new tools for advanced cartography. TileMill opens new possibilities for web map design by combining powerful geospatial data processing with image compositing, Photoshop-like filters and blending modes.
Check out Square's heat map of local commerce around the Super Bowl for a great example of what's now possible.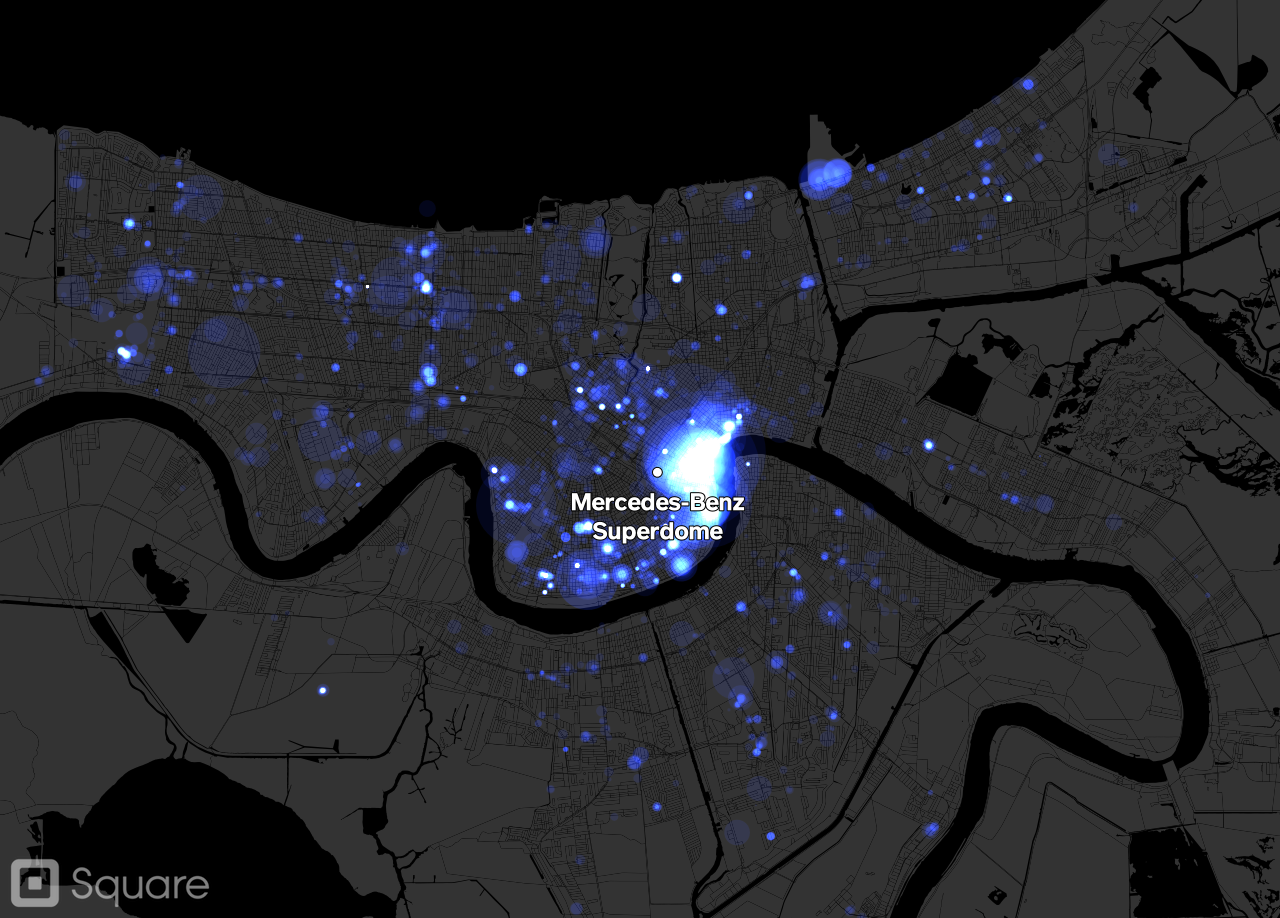 Image from @square
More support and guides
AJ just posted a series of new docs covering best practices for a number of common tasks, like styling labels, lines, and polygons, as well as other more advanced topics.
Make your map now
We've made it even easier to get started making a custom map. You can now start using MapBox without an account. Try out different presets, experiment with customizing them, and see how some markers look on your map. When you're ready to publish, we'll prompt you for a username and password to set up a free account with up to 3,000 map views each month. If you go over that, we'll send you an email and let you know about upgrade options. You can scale your account up or down at any time.
Welcoming new teammates, looking forward
All of this work is only possible because of the absolutely amazing team we've built, and we're thrilled to have several incredibly talented new additions: Ryan, Garrett, Bobby, Jen, John, and Ansis. To support our expanding work in the west coast, we're also opening office space in San Francisco with Code for America.
We're only six weeks into 2013, and you can see we've been busy. Over the coming months, we will be scaling up our work on all of these key areas: better design tools, more publishing options, investing in OpenStreetMap, and radically changing web cartography with TileMill. We'll reveal details of our vision for the rest of 2013 in the coming weeks.
Take MapBox for a spin and let us know what you think. If you've got something custom in mind, we'd love to talk.